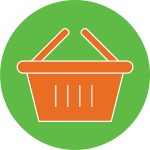 The OCCRC Baby Cupboard provides diapers, baby food and baby formula, once a month, to low-income families with children under the age of 6 within the Orleans East, Cumberland, Sarsfield, Vars, Navan and Carlsbad Spring communities.
The Baby Cupboard services are only offered to residents of the OCCRC catchment area. Please consult this website to find out which catchment area of the City you reside in.
For more information, please call 613-830-4357 ext. 158 and leave your name and phone number.
A representative will return your call within two to three business days.