If you are having issues with registration for an activity, feel free to call our EarlyON team at 613-830-4357 or by email at EarlyONyva@crcoc.ca   
Dear families and caregivers,
Great News!  We have been given the approval to reopen our outdoor playgroups!  Join our Family Resource Workers for playgroups in the park:
Tuesday and Thursday from 9:30 – 11 a.m. in Cumberland (1115 Dunning Rd.)
Friday from 9:30 – 11 a.m. in Orléans (1485 Duford)
Registration is required for all activities.
We will also continue to offer virtual activities, to view our full schedule and read the descriptions of our activities, click here
Our Toy Lending Library is now open by appointments:  613-830-4357 or ealyonyva@crcoc.ca
Did you know that you can make an appointment with one of your Family Resource Worker to discuss different topics? We can support you in your role of parent or caregiver with anything concerning your children aged 6 and under, such as ideas of activities for your children, breastfeeding, behavior, discipline, toilet learning, research of community services, etc. We are here for you! We can be reached by telephone 613-830-4357, email earlyonyva@crcoc.ca or via Facebook. Appointments are available by telephone or video conference.
Follow us on Facebook to be informed of any changes in our programming !
NOTICE – During Step 1 and 2 – All Indoor in person groups CANCELLED

Indoors in person playgroups – Registration only opens the Friday at noon before the group is offered.i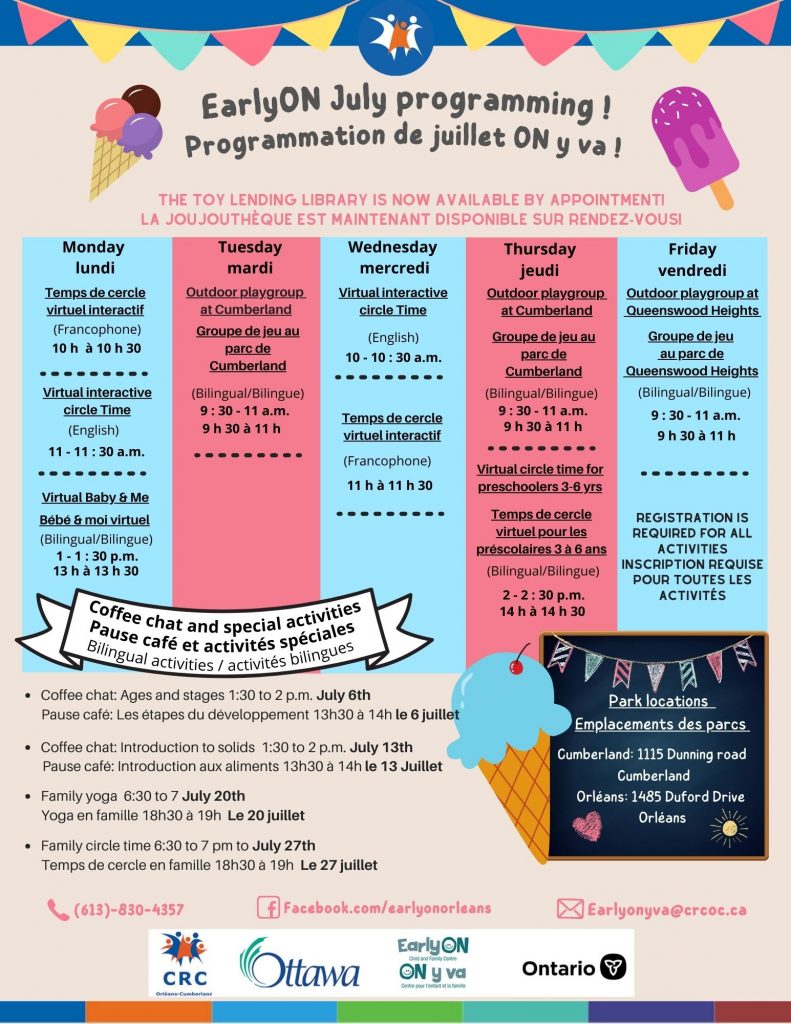 EarlyON Child and Family Centre
The EarlyON Centre offer children, parents and caregivers a friendly environment that fosters positive learning with a wide range of quality programs and services to help your child reach their full potential, with:
Programs designed especially for children up to six years old
Play-based learning experiences that are fun and engaging – such as painting, drawing, building, creating, reading, storytelling, singing and much more
Advice from professionals trained in early childhood development
Information or referrals to specialized programs and services within the community
Opportunity to meet and make connections with families with youth children
Email : EarlyONyva@crcoc.ca

Phone : 613 830-4357
Dominik Lavictoire – ext. 303
Rita Tapia – ext. 304
Caroline Robillard – ext. 302