If you are having issues with registration for an activity, feel free to call our EarlyON team at 613-830-4357 or by email at EarlyONyva@crcoc.ca   
Dear families and childcare providers,
We wanted to thank all families who attended our virtual programming last month.  Unfortunately, we can't offer in-person playgroups until further notice.
We will be back at the park as soon as permitted. Follow us on Facebook to be informed of any changes in our programming !
NOTICE – During Lockdown (Grey Zone) – All Indoor AND Outdoor in person groups CANCELLED

Indoors in person playgroups – Registration only opens the Friday at noon before the group is offered.i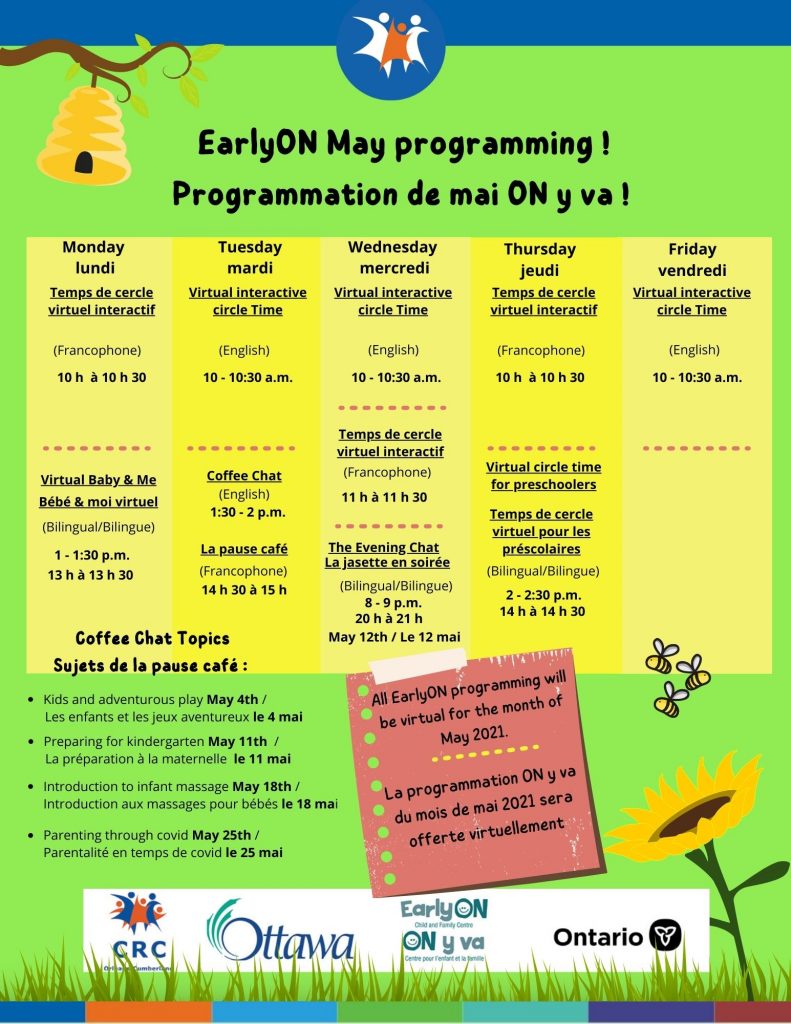 EarlyON Child and Family Centre
The EarlyON Centre offer children, parents and caregivers a friendly environment that fosters positive learning with a wide range of quality programs and services to help your child reach their full potential, with:
Programs designed especially for children up to six years old
Play-based learning experiences that are fun and engaging – such as painting, drawing, building, creating, reading, storytelling, singing and much more
Advice from professionals trained in early childhood development
Information or referrals to specialized programs and services within the community
Opportunity to meet and make connections with families with youth children
Email : EarlyONyva@crcoc.ca

Phone : 613 830-4357
Dominik Lavictoire – ext. 303
Rita Tapia – ext. 304
Caroline Robillard – ext. 302