Become a Community Caring Donor (CCC)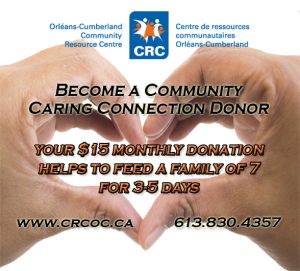 For almost 30 years, the Orléans-Cumberland Community Resource Centre has been and continues to be your 'Community Caring Connection'.
Thanks to the generosity of people like you who donate to the OCCRC, we are able to:
Help hundreds of children from 0 to 18 years old in developing social skills,
dealing with difficult family situations like divorce, self-esteem and bullying issues;
Provide counseling services to individuals dealing with difficult situations, including support to those who are/were victims of  violence;
Provide thousands of individuals and families with basic food supplies through our Food Bank. (over 48% served are children)
For the Community Caring Connection (CCC) fundraising campaign, there are a couple of options you can choose when becoming a CCC donor.  You can decide to become a yearly- donor by donating once a year; OR you can decide to become a monthly donor by donating the same amount on the same day each month which will be directly withdrawn from your credit card or your bank account by the OCCRC.
Whichever way you decide to financial support the OCCRC it is very much appreciated.  Our goal is to find on-going stable donors that will help us on a yearly basis meet our fundraising goal of $150,000 which allows us to provide our much needed programs and services in our community as mentioned above.
An example on how your money could be used:  $180 helps to feed a family of 7 for 3-5 days.
If you are interested in making a donation by cheque, please complete the following form and mail to address located at bottom of form.